No matter what your opinion on the subject may be, you can be sure of the fact that certain landscaping and garden design trends never go out of style. For instance, certain paving stone patios as well as drought-tolerant plants. There are many others that come and go due to popularity and many other related factors in general.
What most people, unfortunately, end up doing is redesigning their landscaping every couple of years just to make sure that they are keeping up with all of the current yearly trends. Not only is this counterproductive, but you end up spending and wasting a lot more of your money and time on a lot of trends that don't even fit into the aesthetics and space of your garden. That is a fact, whether you are dealing with landscaping in the United States or anywhere else, for that matter.
Top 5 landscaping & gardening trends of 2021
Backyard Vegetable Gardens:
For as long as people have had backyards, this has been a consistent gardening trend on the whole. Many people love to grow their food and due to the rise of sustainability and veganism in general, one can clearly see that more and more homeowners are starting to grow their own produce.

Hence, if this particular trend fits your bill, make sure that you find out which specific fruits and vegetables that you would be able to grow in your garden in the best possible way.
Bee/Butterfly/Bird Gardens:
Having begun a few years ago, the main reason for the rise of this particular gardening trend is a substantial decline in the population of both the twin pollinators. More and more people out there are beginning to understand the sheer importance of preserving wildlife so that the plants we eat can be successfully pollinated.
Lower Maintenance Lawns:
In the past few years since water scarcity has also become a widespread problem, the shift from large lawns to smaller lawns that require less maintenance has become more prominent than before. This also ensures that you don't have to waste too much time in the aspect of garden maintenance either.
The planting of purple fruits, vegetables and flowers:
 With regard to this year, the color is purple. Hence, different shades of violet and purple across the board are to be expected. Having said that, if you are planning on following this particular gardening trend, then grapes, lavender, eggplants as well as purple asparagus would be worthwhile options to consider.
Meditation gardens:
This is one such trend that is expected to take off in a major way this year. Including a relaxing calming space for meditation in the aspect of landscape design has been steadily growing in popularity. Meditation cushions, as well as fragrant herbs in the meditation space, are also highly recommended.
One more thing, kindly bear in mind that just because you happen to find all of the above gardening trends appealing does not necessarily mean that you should try them out in your garden. You need to remember that in certain spaces, some trends work and some don't. It is as simple as that. It is up to you to find out how to use specific trends to your complete advantage.
Don't' ever forget that less is more. Identify a few key gardening trends that you know would work in your garden for sure and then take things from there accordingly. Doing so would not only transform your backyard into a space that is much better suited to your lifestyle than before, but it will also ensure that an atmosphere of peace and general well-being prevail.
Landscape maintenance tips to practically live by
Getting your landscape designed or not by the professionals is a variable, but in both the scenarios there is a constant- proper landscape maintenance. Even if you think that the professionals will take care of it all from A to Z, you need to put in a little effort as well. Since you might not be able to handle the problematic tasks yet, let's start with the easy ones. Need more information? Read on.
Watering regularly is a must
If you are not watering your plants regularly and appropriately, then you are wasting all your hard-earned money on the landscaping procedures. Insufficient watering and excessive watering both are incredibly dangerous for your plants' lives. Gain knowledge about the specific amount of water that your plants need along with how often you need to water them.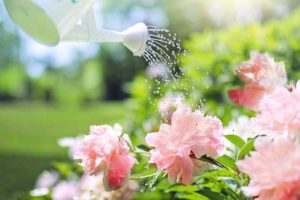 Say bye-bye to weeds
Cut off the weeds as soon as you notice them. You would not want your landscape design to be ruined by weeds which makes it an imperative step in garden maintenance.
Everyday inspection is healthy
While taking a stroll in your garden, why not take a close look at the plants for a thorough inspection once a day?! Keep an eye out for drying up plants and take important measures to keep them hydrated for better growth. Check for insects and in the case of dry plants, cut them out to protect the others as well.
Be friendly towards earthworms
Be joyful if you notice earthworms because they signify that the money you have been paying to experts of landscape design or your hard work in the garden is paying off. Earthworms are seen only in healthy soil so make sure you use the right manure for maintaining its quality.

Now that you are an expert in garden and landscape maintenance make the most of these tips and be the proud owner of a flourishing and healthy garden.
If You Want to Hire a Professional Gardener Read These Tips
You know how they say about some things- it's better to leave the work to the professionals, and gardening is no different. Just because you have a beautifully landscaped garden (designed by the professionals, of course) and you think you know everything about the plants and can take care of them yourself, we suggest you snap out of the dilemma as soon as possible. Gardening is a complicated process that requires apt knowledge and also the skills for proper care. If you really love your plants and want them to grow and blossom, here are 6 reasons why you need a gardener ASAP.
You can't do it
If you are not well versed with what a plant actually needs and in what proportions, then there are chances that you might ruin the landscaping beyond repair. For gardening, you must have the knowledge to take up the task otherwise you will end up killing all the plants and throwing your money down the drain. This way you will save all the money on fertilizers and the equipment as well.
You don't want to do it
Even if you have the knowledge and you might even have some time to take care of the garden, there are many people who don't want to do the garden maintenance in the first place. Well, let's face it, it's a hassle, it takes a lot of time and you will have to dirty yourself a bit (maybe a lot) to get the results you desire. If you have the means to this end, why not hire gardeners in the United States and sit back while professionals do all the work.
You don't have the time to do it
There are scenarios where people have some knowledge about gardening and what goes in it for proper care. But then, most of these people are working and don't have the time to even lay eyes on their garden, let alone maintaining it. If you are one of these, then hiring a gardener is an absolute must for you, as it clearly shows that you love your garden and shortage of time should be no reason to ruin the perfect landscapes of your home.
Special attention in all months
Plants demand attention and change every season and only an expert or specialist can cater to their needs which is why hiring a gardener is a necessity. He will change the manure and even place them according to their shade and sunlight requirements. With professional help, you will be able to enjoy your garden every season without worrying about weeds, fallen leaves, or pruning.
Great combination of equipment and knowledge
With the best equipment, right knowledge and great experience up their sleeves, professional gardeners in the United States will be able to landscape and maintain it beautifully for you. They will take care of general maintenance along with creating everything you need in your garden, a kitchen garden for instance. They have the right equipment for the job and clubbed with the right knowledge, their efforts will bear great fruits for you.
They know what needs to be done
Professional gardeners are artistic and creative when it comes to gardening and the best part is that they know exactly what needs to be done. They have done this a hundred times before which makes it a safe bet for you. Even if you see them working and then think that you can do this yourself, then you are under the wrong impression because it's not that easy as it might seem.
These points should be enough for you to start searching for a great gardening service and hire the best ones immediately. Good luck.